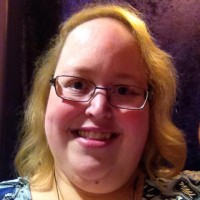 After having what Jess terms as her "Quarter Life Crisis" in 2002, she was introduced to psychics, mediums, and spiritual and energy healing, and as she jokingly says now, ""I'm never going back!" Jess has been reading Tarot cards since April, 2004. She developed and defined her gifts through the careful guidance of Keri-Ann Aubin of Easthampton, MA. Jess' reading style is unique, in that she does not use the traditional Celtic cross spread in her readings. Instead she uses a spread which was taught to her by a friend and then adapted. Jess works with several decks with each reading, including:
The Vision Quest Tarot
Healing with the Angels Oracle
Saints and Angels Oracle
Ascended MastersOracle
Mermaids and Dolphins Oracle
Archangel Oracle
Archangel Michael Oracle
Archangel Raphael Oracle
Angel Therapy Oracle
Goddess Guidance Oracle
Daily Guidance from Your Angels Oracle
Brian Weiss' Healing the Mind and Spirit Cards
Colette Baron-Reid's Wisdom of the Avalon Oracle Deck
The Integrated Energy Therapy® Bag of Blessings Cards
The Goddess Oracle * John Holland's Psychic Tarot Oracle Deck
John Holland's Psychic Tarot Oracle Deck
Patti Sinclair's Within Reach Mediumship Deck
Plus Jess' own channeled oracle deck, Spontaneous Moments of Connection
In addition to her training in Tarot, Jess has had the opportunity to work for nationally-known psychic medium and author Suzane Northrop, as well as participate in workshops and seminars with two other nationally-known psychic mediums and authors, John Holland and Patti Sinclair. Jess will often receive messages from energies on the Other Side during her Tarot sessions, and has incorporated psychic mediumship into her card readings since November, 2006. Jess is a Master-Instructor of Integrated Energy Therapy®; her teachers are Michelle McCarthy of the Heart to Heart Healing Connection in Agawam, MA, and Stevan J. Thayer and Karen Puglia of the Center of Being in Woodstock, NY. Jess received training in first, second, and Master Practitioner levels of Reiki from Shirley Lim of Stamford, CT, and Michelle McCarthy. She has also received a certification in Crystal Healing, having studied with Margaret Ann Lembo of The Crystal Garden in Boynton Beach, FL. In addition, Jess is also a practitioner of the energy modality, Total Energetics: The Science & Art of Trance-Formation, having studied with Dr. Norman Roy of Roy Chiropractic and Wellness Center in Easthampton, MA. From experiencing readings by many different psychics, intuitives and mediums, she has come to believe that readings can be a loving, healing experience . . . often leading to growth and acceptance of our true selves and our situations. If you've never been read before, having a reading (or energy healing session) with Jess is a wonderful opportunity and a very safe place to start. If it has been a while since your last reading or energy healing session, Jess invites you to join her and reconnect with your spirit. You will find that whether it is a reading, class, or hands-on energy work, Jess has a passion for assisting others in their self-healing process and enjoys teaching them how to self-heal through Mediumship, Tarot, Integrated Energy Therapy®, Reiki, Crystal Healing and Total Energetics!