Inspirit Crystals offers a wide selection of spiritual gifts from many traditions, including:
gems, crystals, and stones
statues from around the world
necklaces, earrings and other jewelry featuring stones with meaning
tarot cards
singing bowls
salt lamps
a large selection of candles, incense, and distinctive candle holders
a unique collection of spiritual books and cards
CDs featuring spiritual music from the Valley and around the world
books about world spirituality, healing, meditation, and more including a variety of books for young folks
On most days our store offers readings by psychics that are highly regarded throughout the Valley and beyond. You can learn about our readers here and find the schedule of readers here. You can sign up in advance, or drop in.
Inspirit Crystals is a unique and tranquil place. Many people have commented that it is an oasis that offers peaceful respite from the hustle and bustle of daily life. We invite you to come to our store to shop, discover, renew, and heal! We also have a wide selection of items available for purchase on our webstore.

---
Meet the Owners of Inspirit Crystals
We are Barry and Rosie Goldstein, a father/daughter team from Northampton. We had always loved this very special store since it opened in 2005. We loved the experience of being there: the music, the incense, and especially the mesmerizing crystals. In 2012, when we heard that owners Emily and Bucky Sparkle were looking for new owners, we allowed ourselves to fantasize about our family taking on this exciting project. When we met with the Sparkles, we immediately felt a deep connection with both of them, and with their vision; and we knew it was meant to be. Slowly, we dared to have our own vision as well—a vision of growth, of bringing even more gifts with special meaning into the store, of touching even more lives with the magic of this place. It is gratifying for us to see our vision becoming reality!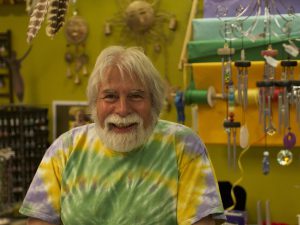 Barry is an old hippy who retired a few years back from a long career as a psychologist in the Holyoke Public Schools. He has also managed real estate on the side for many years. He and his wife Sue have always had an interest in Spanish language and culture. After several visits to Latin America, they took a year off and lived in Ecuador for a year in the 70s. Their son Robin was born shortly after they returned to the states;  and Barry and Sue's close relationship with the traditions of South America influenced their decision nine years later to adopt a baby girl from Chile: Rosie.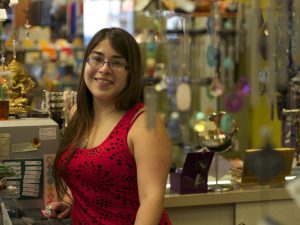 Rosie loves traveling and has borrowed spiritual ideas from many countries over the years. She feels strongly connected to Chile, where she spent time as a teenager. A side trip to Easter Island back then left an especially lasting impression on her. In the past Rosie worked both in retail and in human services, and she feels that owning Inspirit Crystals combines these two areas. She has a passion for animals, and from time to time you might see her little hairless terrier, Juliet, in the store with her, sitting on the counter greeting folks who come in.
---
Directions
Address
219 Main Street
Northampton, MA
01060
FROM RTE 91 SOUTH
Take exit 23 (old exit 18) for US-5 N toward Northampton Center (0.2 mi)
Turn left at Mt Tom Rd (0.4 mi)
Continue onto Pleasant St (0.7 mi)
Turn left at Main St. Inspirit Crystals will be on the right across from Northampton City Hall
FROM RTE 91 NORTH
Take exit 26 (old exit 20) to merge onto N King St/MA-10 S/US-5 S toward MA-9/Northampton/Hadley (1.8 mi)
Turn right at Main St. Inspirit Crystals will be on the right (0.2 mi)